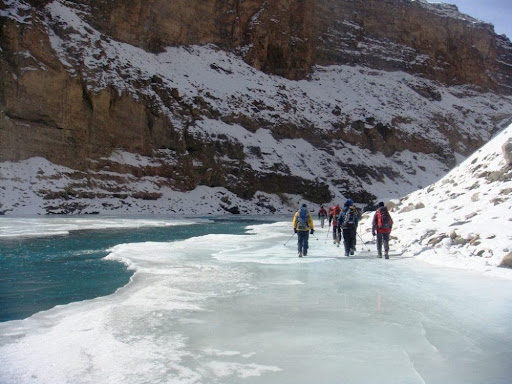 Is it a snow trek? tropical trek? Or a beach trek? This time the Himalayas have brought to you the best ever frozen river trek in India!  At first glance it may seem normal to have a frozen river in the icy cold Himalayas, but what makes this frozen river special is its altitude. Situated at 11,000 ft, the Zanskar river halts in time and let's you take in its divine beauty. The Chadar trek is where one will make the best trek memories of their lifetime!
However, there are some things you should consider before embarking on your life changing journey to this frozen river. This is a 9-11 days trek journey with difficult courses on the trail. It is recommended you travel with a group of people and a guide for safety reasons.  
How to Get there
The closest airport is Kushok Bakula Rimpochee in Leh. Leh is well connected by airways to cities like Delhi, Mumbai, Chandigarh and Srinagar. If you are traveling from Srinagar or Manali, there are local bus services which operate till Leh and further up till Zanskar via Kargil-Padum route. Since Zanskar valley is far up north, bikes, jeeps and taxis are the only way to get there. 
💡 Tip – Since this is a winter trek, one should be aware of the unpredictable extreme weather changes Ladakh experience during winters. It is advised to carry forward with the trek when the weather is favourable and no alerts of landslides. 
Prerequisites for the trek
Due to high altitude and lack of oxygen, you need to get acclimatized to the terrain so that your body adapts to the changed altitude and climate it will be exposed to during this trek. There also needs to be a mandatory complete medical health check up prior to the trek for safety. This is where you will be granted permission to enter the area further if you cleared all the guidelines  or the authorities will provide you with an alternative place to explore meanwhile, if you are found unfit to travel. 
Assuming you cleared all the formalities and permissions, you can drive up to Shingra Koma which is 11 km away alongside Zanskar river, you will come across a astounding scene of  narrow road leading straight ahead in between the lofty beige hills. You will find yourself walking by the frozen river till you reach Gyalpo. The temperatures drop to sub zero levels after sunset. 
Make sure you carry:
A multi-layered good quality tent

Sufficient drinking water

Appropriate waterproof jackets and footwear

Trekking gears

Hiking sticks

First aid kit, oximeter

Thermal and woolen garments, socks, gloves etc
The Trek
Also, do not forget to interact and explore the village of Chilling enroute! The locals are extremely kind and friendly and a lovely audience to talk to. After setting up tents in Gyalpo for overnight stay, enjoy the most soul touching and extraordinary night of your life under millions of visible stars.  Sing songs, share stories and share what you experienced during the day with your fellow trekkers. 
Your next day will begin early in the morning with a glowing and fulfilling sunrise setting the agenda for the day. You will be trekking to Tibb cave which is a naturally formed cave in Zanskar Valley. The cave sits perfectly beside the frozen river offering an ideal place to rest. Along the way, you will witness a magnificent frozen waterfall paused in time. It is an unusual sight to see and at the same time uniquely beautiful.  As the sun sets, the beige lofty mountains surrounding you will glow one last time in golden light as the bright white stars take over the sky. The average distance one should cover in a day is 11-15 km as exhausting yourself is not a viable option. 
Saving the best for the last, Nyerak is the turnaround point for this trek. Everything at this point has come to a halt, the waterfall, the river, the sky and even you can skip your breath here. The view is majestic, the air is mystic. Each step you took to reach this place  seems to be paid off satisfyingly. This will be the coldest overnight stay you will experience throughout the trek. Try to take in this magical experience as much as you can. No amount of photos or high quality cameras will do justice to the beauty of this place and hence this trek will totally shift your mindset, your mood, your outlook towards life and its nature. 
From this point onwards, you will begin your return journey towards Leh with a huge baggage of fond memories the place has given you. 
  💡 Tip – For any reason, if the authorities in Leh are preventing you from making advances towards the trek, kindly cooperate with them. 
Ladakh and its people are far from modern lifestyle and standard of living. The state is occupied by humble shepherds, hard working farmers and kind people with Buddhist spiritual beliefs. It is only after visiting Ladakh, one will realize how simple and peaceful life is led in the mountains. Please visit the Gompas and monasteries before embarking your trek for a safe journey!